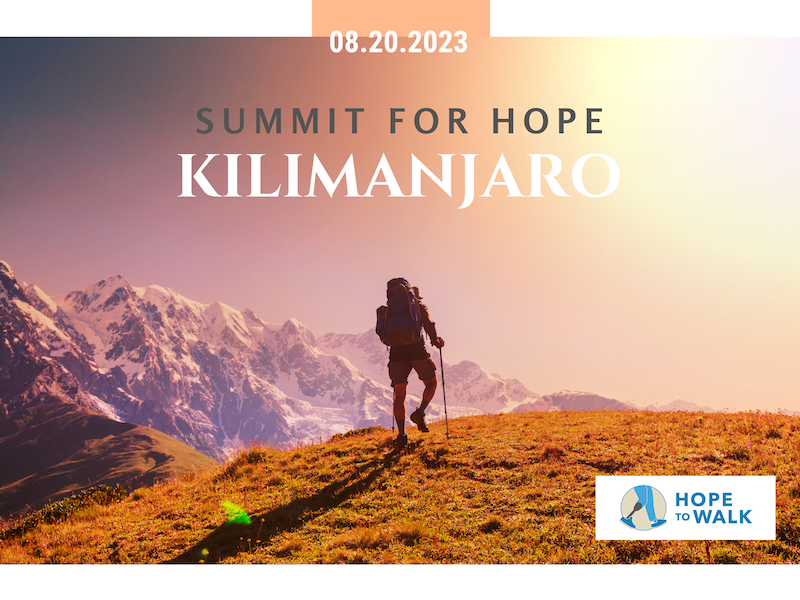 This is a live-changing opportunity to be of service internationally, helping the lame to walk again. In addition, walk for those who can't by summitting Africa's highest peak, Mt. Kilimanjaro, with the best team around, K2 Adventures Foundation. See firsthand the transformation from wheelchair to walking. Each member of the Summit for Hope team will get to honor a loved one with a Leg In Honor, and see that patient walk again! Beautiful accommodations, safe, private rooms, good food and fellowship. Memories to last a lifetime.
August 20-September 1, 2023
Itinerary:
August 20 - Arrive in Arusha, Tanzania
August 21 - Serve in the Hope To Walk/K2/NSK Clinic
August 22 - Serve in the Hope To Walk/K2/NSK Clinic
August 23- 30 - Climb Mt. Kilimanjaro
August 31 - One day safari in the Serengeti
September 1 - Depart for home
Arusha, Tanzania and Mt. Kilimanjaro
Anyone who has the heart for serving others and a sense of adventure.
Cost: $7,500
Includes: lodging, in-country transportation, meals, Kilimanjaro climb (3 fresh, square meals daily), 5-star safari and the chance to change lives while serving in our prosthetics clinic
Does not include: airfare
Deadline: Sign up and pay your $1,000 deposit by May 1, 2023.
Join Us on a Trip to Kilimanjaro
We will begin having more regular Zoom meetings to discuss training and details.