BLACKSBURG – Le Thi T'hen was 25 years old when she lost both her legs to a train wreck in Vietnam, but last month a Southwest Virginia nonprofit helped the now 42-year-old woman walk again.
T'hen was one of eight people to get prosthetic legs designed for developing countries and distributed through Hope to Walk on the group's first trip to Vietnam. Four volunteers from the organization traveled to the country to fit amputees with new legs and to train medical professionals in Hanoi, the capital city, on how to build and fit the legs themselves.
"It's just a drop in the bucket to the need," said Ken Jones, a retired Christiansburg physician who joined the effort in November. He has also traveled with the group to Honduras.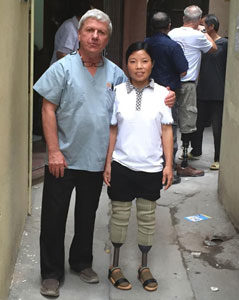 The volunteers spent more than two weeks in Vietnam, returning on March 31 in time for a fundraising banquet in Christiansburg on April 9. The banquet is set for 6:30 to 8 p.m. at the Christiansburg Fire Station, located at 110 Depot St. The cost is $25.
"We never expected Hope to Walk to grow into what it has grown into," said Phil Johnson, a Blacksburg prosthetist and orthotist who crafted the inexpensive limb and co-founded Hope to Walk.
In a couple of years, the small nonprofit has fitted more than 200 legs in Central America, restoring some mobility to people with no other hope for treatment.
Johnson said he's done 24 trips to Honduras, and now has been to Vietnam. The group has had invitations from 30 developing countries to bring their design and training to people who need prosthetic legs below the knee, he said. They want to expand to Bangladesh and Africa in the coming years.
Johnson has designed an adult and a pediatric leg, both of which are customized to the patient on site. The device is made of simple, relatively cheap materials. The leg is constructed from PVC pipe filled with a wooden dowel and painted. The foot is made with wood (sometimes salvaged from industrial pallets) and a crepe foam that allows the "foot" to flex during walking for a natural gait. A special connector holds the leg to a fiberglass cast of the patient's stump.
Johnson uses Gorilla Glue, a water-activated polyurethane product, to connect the parts of the device together. The foam "toe," just like the wooden "heel," can be ground to the correct shoe size and shaped under field conditions.
To prepare for the Vietnam trip, Jones, who now lives at Smith Mountain Lake, recruited two woodworkers who are members of his congregation, Eastlake Community Church, to help build the legs. Paul Hadfield and Bill Johnston spent time before the trip cutting and gluing components and traveled to Blacksburg to learn from Johnson how to put them together.
Right now the legs only work for below-the-knee amputees, but Jones said the group is working on an articulated device that could serve patients with above-the-knee amputations.
This is not the first affordable prosthetic device project of its kind. Other groups have developed similar prostheses with varying costs.
A $200 leg designed by Mercer School of Engineering students in Georgia uses universal socket technology developed by Dr. Ha Van Vo, a native of Vietnam, to fit amputees in developing countries, according to the university website.
"More than 2,000 Vietnamese are injured each year by land mines and unexploded bombs left during the Vietnam War," according to the university. "An estimated 100,000 amputees live in Vietnam today, and there are more than 18 million amputees around the world, with more than 80 percent of those living in developing countries."
According to international aid groups, Vietnam also has high rates of poverty and debt, especially in North Vietnam, and access to health care can be expensive and hard for people in rural areas to reach.
Originally posted By Tonia Moxley – tonia.moxley@roanoke.com